Siberian Wellness is getting better day by day. To give you the best products, we refine our formulas to make them more effective. Meet the improved Elemvitals. Calcium with Siberian herbs!
What's new in the product?
We have added plant extracts and Vitamin K to the current formula to enhance calcium absorption and make the product more functional.
What's inside the new Elemvitals. Calcium with Siberian herbs?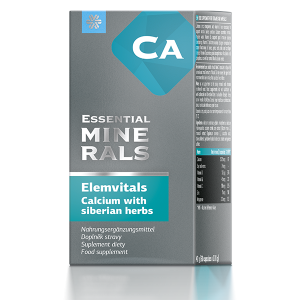 Food Supplement "Elemvitals. Calcium with Siberian herbs", 60 capsules
500628
Three capsules of the new formula contain:
Vitamin D – 10.2 mcg
Vitamin К – 240 mcg
Vitamin C – 138 mg
Vitamin B6 – 3.6 mg
Calcium – 478 mg
Zinc – 13 mg
Manganese – 2.1 mg
Soy extract – 90 mg
Horsetail extract – 48 mg
Burdock extract – 48 mg
Why do we need calcium?
Calcium has a role in the process of cell division and specialization. Calcium, zinc, manganese, Vitamin D, and Vitamin K are necessary to support normal bones condition. Calcium contributes to normal muscle function. Vitamin B6 contributes to the normal function of the immune system. Vitamin C contributes to normal collagen formation for the normal function of bones, gums, teeth, skin, and cartilage. Vitamin D promotes good absorption/use of calcium and phosphorus as well as normal blood calcium levels.