Home
→ Food supplement Vitamama. Dino Lecithino Lecithin Syrup (Cherry), 95 ml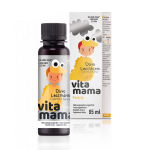 Price inkluding VAT plus shipping
Buy in Online-Shop
Food supplement Vitamama. Dino Lecithino Lecithin Syrup (Cherry), 95 ml
# 501007 95 ml
Food supplement with lecithin
Syrup with a delicious cherry flavor as a supplement to the daily nutritional need of children and their parents. With pure sunflower lecithin based on fruit juices. No added sugar* or preservatives. Lecithin is a phospholipid, which is a part of the brain and nerve cells membranes.
Store in a dry, shadowed place at room temperature of 25º С. Keep out of the reach of children.
Laboratory of Modern Health LLC, 11/20 Khimzavodskaya St., Berdsk, Novosibirsk Region, 633004, Russia.
Distributor: SIBERIAN HEALTH GmbH, Charlottenstr. 77, 10117 Berlin.
Recommended use
Children aged 3+ and adults should take 5 ml 2 times a day (measuring cap is included). Shake before use. Do not exceed the recommended daily intake.
Note: Food supplements should not be used as a substitute for a well-balanced and diversified diet or a healthy lifestyle. Keep out of reach of children. In case of any individual intolerance please consult your healthcare professional prior to intake.