Home
→ Food supplement Essential Vitamins. Natural Vitamin E, 30 ml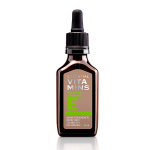 Price inkluding VAT plus shipping
Buy in Online-Shop
Food supplement Essential Vitamins. Natural Vitamin E, 30 ml
# 500981 30 ml
Vitamin E contributes to the protection of cells from oxidative stress.
Vitamin E is a group of different chemical compounds that poses a strong antioxidant effect. They are vital to the body, but our body cannot produce them on its own. That is why regular intake of Vitamin E with meals is important. Although vegetable oils and green leafy vegetables contain Vitamin E, getting it from food is not always enough to meet the daily requirement. Thus, a food supplement can be beneficial.
Manufacturer: Laboratory of Modern Health LLC, 11/20 Khimzavodskaya St., Berdsk, Novosibirsk Region, Russia, 633004.
Recommended use
Adults and children aged 3 years and above should take one drop twice a day with meals. Do not exceed the specified recommended daily intake.
NOTE:
Food supplements do not substitute a well-balanced and diversified diet or a healthy lifestyle. Keep away from children. In case of any individual intolerance please consult your health care professional prior to intake.
Store in a dry, shadowed place at room temperature of 25º С. Keep out of the reach of children.