Home
→ The Baikal Tea Collection Set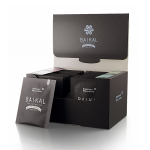 Price inkluding VAT plus shipping
Buy in Online-Shop
The Baikal Tea Collection Set
# 500856 40 tea bags x 1.5 g
Discover the precious gift of nature – the splendid aroma and taste of traditional Siberian herbal tea. Carefully hand-picked by herbalists, the tea fills your day with energy and helps to escape from hustle and bustle of city life. Four flavors for perfect well-being and wonderful mood!
Laboratory of Modern Health LLC, 11/20 Khimzavodskaya St., Berdsk,Novosibirsk Region, Russia, 633004.
Recommended use
Recommended use: 1 tea bag (1.5 g) pour over with 1 glass (200 ml) of boiling water, steep for 15 minutes, squeeze well the tea bag.
INDICATION:
Keep out of reach of children. Not suitable for pregnant women. Store in cool and dry place at a temperature of no more than 25 °С.
Herbal tea № 2. Female harmony
Ingredients: alfalfa herb, motherwort herb, oregano herb, peppermint leaf, lemon balm herb, sage leaf.
Herbal tea № 3. Natural poise
Ingredients: Baikal skullcap root (30%), lemon balm herb, oregano herb, chamomile flower, peppermint leaf.
Herbal tea № 4. Forest breath
Ingredients:Linden flowers (23%), apple pieces (22%), oregano (20%), mint (20%), chamomile flowers (15%).
Herbal tea № 6. Natural support
Ingredients: corn silk, peppermint leaf, chamomile flower, rose hip, knotgrass herb.