Home
→ Food supplement Vitamama. Omega-3 OMEGAlodon (Typ Mango), 60 capsules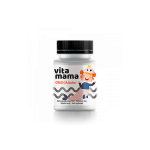 Price inkluding VAT plus shipping
Buy in Online-Shop
Food supplement Vitamama. Omega-3 OMEGAlodon (Typ Mango), 60 capsules
# 500845 48 g (60 capsules × 0.8 g)
Food supplement with polyunsaturated Omega-3 acids and Vitamins
Funny fish shaped capsules with mango scent – that's the secret and cunning of OMEGAlodon. Food supplement with polyunsaturated Omega-3 acids and Vitamins for kids aged 3+. We took a high concentration of extra pure Omega-3 acids and added Vitamins A, D and E. EPA and DHA promote normal heart work. DHA contributes to the maintenance of normal brain and vision functions. Positive effect is achieved with a daily intake of 250 mg of Eicosapentaenoic acid (EPA) and Docosahexaenoic acid (DHA).
Eat the whole capsule or add it to meal!
Manufactured by: Laboratory of Modern Health LLC, 11/20 Khimzavodskaya St., Berdsk, Novosibirsk Region, 633004, Russia.
Recommended use
Recommended use: children aged 3+ take 1 capsule twice a day with meals (entire capsule or squeeze the content by separating its tail). Do not exceed the recommended daily intake.
Indication: Food supplements are not a substitute for a balanced and varied diet or a healthy lifestyle. Keep out of reach of children. In case of any individual intolerance please consult your health care professional prior to intake. The excess consumption may cause laxative effect.
Ingredients: fatty acid ethyl esters made of fish oil, gelatin, humectant glycerin, water, natural flavor, Vitamin E, beta-carotene colorant, Vitamin A, Vitamin D.
Composition
Daily intake
(2 capsules)
% NRV*
Vitamin A
352 μg RE
44
Vitamin D
7,0 μg
140
Vitamin E
4,9 mg α-TE
41
Fatty acid ethyl esters
992 mg
-
where Omega-3 fatty acids
744 mg
-
where EPA
496 mg
-
where DHA
198 mg
-
* NRV – Nutrient Reference Value.