Home
→ Food supplement Essential Vitamins. Vitamin D3, 30 ml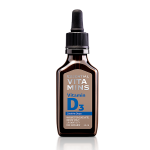 Price inkluding VAT plus shipping
Buy in Online-Shop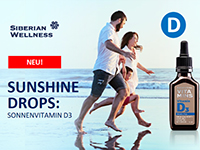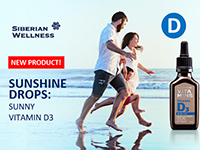 Food supplement Essential Vitamins. Vitamin D3, 30 ml
# 500820 30 ml
Food supplement.
Sunny vitamin for adults and kids!
Vitamin D3 a vital nutrient for the body. It maintains normal bones and teeth, contributing to the normal absorption usage of calcium. Vitamin D3 contributes to the maintenance of normal muscle function and the immune system. That's the only Vitamin our body can produce in significant quantities. But this requires sunlight. The skin gets less sunlight, especially during the cold, sunless months.
400 IU of Vitamin D3 – in two drops
Dropper facilitates the dosing of Vitamin.
For the whole family
The big package is enough for adults and kids.
3+
The age at which the product can be taken.
Only two ingredients – nothing extra
Alcohol-free.
Vitamin D3 – cholecalciferol
Liposoluble Vitamin is well absorbed along with lipids.
Eco-friendly packaging of a high quality
All the products are packaged in Stölzle pharmacy glass, which protects against exposure to light. Glass is fully recyclable.
Manufacturer: Laboratory of Modern Health LLC, 11/20 Khimzavodskaya St., Berdsk, Novosibirsk Region, Russia, 633004.
Recommended use
Children aged 3+ and adults should take one drop twice a day with meals.
Note:
food supplements should not be used as a substitute for a well-balanced and diversified diet or a healthy lifestyle. Keep out of reach of children. In case of any individual intolerance please consult your health care professional prior to intake.
Store in a dry and cool place, away from light, at a room temperature of no more than 25 °С.