Home
→ Food Supplement Essential Vitamins. Vitamins with Calcium, 60 capsules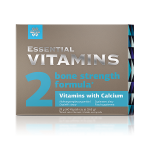 Price inkluding VAT plus shipping
Buy in Online-Shop
Food Supplement Essential Vitamins. Vitamins with Calcium, 60 capsules
# 500676 39 g (60 capsules x 0,65 g)
Dietary supplement with calcium and vitamins
Essential Vitamin. Vitamins with Calcium provides the body with 13 essential vitamins in adequate daily dosage and helps maintain well-being. Calcium is necessary to maintain normal bones and teeth and contributes to normal energy metabolism. The product contains pantothenic acid and thus contributes to normal mental activity. Vitamin B6 contributes to normal protein and glycogen metabolism, helps reduce fatigue. For active lifestyle support.
Laboratory of Modern Health LLC, 11/20 Khimzavodskaya St., Berdsk, Novosibirsk Region, Russia, 633004.
Recommended use
Adults should take 1 capsule twice a day with a meal and a small amount of liquid. Do not exceed the recommended daily intake.
Calcium carbonate, gelatin, Vitamin C, Vitamin E, niacin, pantothenic acid, Vitamin B6, riboflavin, thiamine, Vitamin A, folic acid, biotin, Vitamin K, Vitamin D, Vitamin B12.
Name
Daily intake
(2 capsules):
% NRV*
Vitamin А
1252 µg RE
157
Vitamin D
11 µg
220
Vitamin Е
14 mg α-TE
117
Vitamin К
63 µg
84
Vitamin С
106 mg
133
Thiamine
1,3 mg
118
Riboflavin
1,3 mg
93
Niacin
13 mg NE
81
Vitamin В6
2,1 mg
150
Folic acid
420 µg
210
Vitamin В12
3,4 µg
136
Biotine
106 µg
212
Pantothenic acid
4,6 mg
77
Calcium
336 mg
42
* NRV – Nutrient Reference Value.