Home
→ Herbal tea № 4. Forest breath, 30 tea bags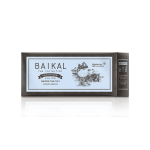 Price inkluding VAT plus shipping
Buy in Online-Shop
Herbal tea № 4. Forest breath, 30 tea bags
# 500584 30 tea bags × 1.5 g
True Siberia is inside!
The fragrant blend of oregano, linden and chamomile will perks you up and help survive the season of common colds. Apple pieces accentuate the taste with fruity notes.
Laboratory of Modern Health LLC, 11/20 Khimzavodskaya St., Berdsk,Novosibirsk Region, Russia, 633004.
Recommended use
Recommended use: 1 tea bag (1.5 g) pour over with 1 glass (200 ml) of boiling water, steep for 15 minutes, squeeze well the tea bag.
INDICATION:
Not suitable for children under the age of 12. Store in cool and dry place at a temperature of no more than 25 °С.