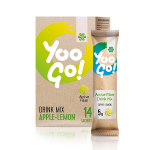 Price inkluding VAT plus shipping
Buy in Online-Shop
Yoo Go! Active Fiber Drink Mix (Apple-Lemon), 70 g
# 500543 70 g (14x5 g)
Powder for making a flavored drink with dietary fiber, with a sweetener.
Your appetite doesn't control you, it's YOU who does it! A delicious drink to start on a new day for those who prefer fiber with taste.Source of glucose.
Yoo Go! Active Fiber Drink Mix is a perfect choice for those who:
plan to adjust their diet,
strive to control calories,
eager to easily give up desserts,
look for a source of natural fiber for every day.
Why Active Fiber?
Because fiber can be delicious!
What's inside?*
Citrus fiber
Apple pectin
Blond psyllium husks
Apple and lemon juice powder
3.5 grams of fiber
0% sugar
* In 1 serving.
Recommended use
Thoroughly dissolve the sachet content in 100–150 ml of water. Serve immediately after mixing. Take one serving in the morning, about 30 minutes before a meal.
Note:
It's important to maintain a diverse and well-balanced diet and a healthy lifestyle.
Store in a dry place, away from light, at a temperature of no more than 20 °С and relative humidity of no more than 75%. Keep out of the reach of children.
Citrus fiber (40%), apple pectin (20%), apple juice powder (15%), isomaltooligosaccharide, husks of blond psyllium (Plantago ovata 10%), malic acid (acidifier), guar gum (thickener), lemon juice powder (1%), natural apple flavor, steviol glycosides (sweetener).
| | | |
| --- | --- | --- |
| Name | In 100 g (dry powder) | In a serving (5 g) (dry powder) |
| Energy value | 940 kJ / 220 kcal | 47 kJ / 11 kcal |
| Fats | 0,8 g | 0 g |
| where saturated fatty acids | 0,5 g | 0 g |
| Carbohydrates | 18 g | 0,9 g |
| where sugar | 8,6 g | 0,43 g |
| Dietary fiber | 70 g | 3,5 g |
| Protein | 2 g | < 0,5 g |
| Salt | 0,6 g | 0,03 g |