Home
→ Yoo Go! Shake it! Cocoa & ginger, 175 g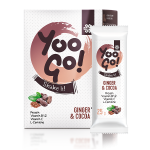 Price inkluding VAT plus shipping
Buy in Online-Shop
Yoo Go! Shake it! Cocoa & ginger, 175 g
# 500541 175 g (7 x 25 g)
Powder for making a protein drink with cocoa and ginger, with a sweetener.
0%
Artificial flavors and supplements
Vegetable proteins
Nutrient-rich shake: just mix with low-fat milk in a shaker and a healthy snack is ready to serve!
Enriched with nutrients, the shake based on milk protein concentrate has been specifically targeted for those who keep fit. Cocoa powder and natural sweetener from stevia extract give the product a pleasant, somewhat sweet taste.
15.7 g of protein HELPS to maintain and gain muscle bulk, as well as preserve normal bone tissue.
2 mcg (80% NRV*) of vitamin B12, which helps to reduce fatigue and contributes to the normal functioning of both nervous and immune systems.
22 mg (28% NRV*) of vitamin C, which promotes the normal formation of collagen for normal bone functioning, supports immunity during and after exercise.
NRV* – Nutrient Reference Value.
Product of Russia.
Manufacturer: Laboratory of Modern Health LLC, 11/20 Khimzavodskaya St., Berdsk, Novosibirsk Region, 633004, Russia.
Recommended use
Mix 300 ml of skimmed milk (or 150 ml of 1.5% milk + 150 ml of water) and a package content (25 g). Serve immediately after mixing. For a thicker shake, use less milk.
NOTE:
It's important to maintain diverse and balanced food diet and healthy lifestyle.
Store in a dry place, away from light, at a temperature of no more than 20°С and relative humidity of no more than 70%. Keep out of the reach of children.
Milk protein (milk protein concentrate) (71%), psyllium husks (10%), fat-free cocoa (10%), ginger root powder (3%), L-carnitine-L-tartrate (2%), oat beta-glucan (1%), bitter melon extract (momordica) (1%), fish oil (1%), acerola extract (0.5%), steviol glycosides of stevia leaves, cyanocobalamin, L-ascorbic acid.
Name
100 g (dry powder)
1 serving — 25 g (dry powder)
Energy Value
1384 kJ / 328 kcal
346 kJ / 82 kcal
Fats
2,8 g
0,7 g
where saturated fatty acids
0,4 g
0,1 g
Carbohydrates
8 g
2 g
where sugar
8 g
2 g
Cellulose
9,6 g
2,4 g
Protein
62 g
15,7 g
Salt
0,16 g
0,04 g
Vitamin C
88 mg (108% NRV*)
22 mg (28% NRV*)
Vitamin В12
8µg (320% NRV*)
2 µg (80% NRV*)
L-Carnitine
1360 mg
340 mg
ESSENTIAL AMINO ACIDS, MG
Isoleucine
2932
733
Leucine
5560
1390
Lysine
4712
1178
Methionine
1632
408
Phenylalanine
2876
719
Threonine
2496
624
Tryptophan
728
182
Valine
3748
937
* NRV – nutritional value.