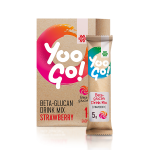 Price inkluding VAT plus shipping
Buy in Online-Shop
Yoo Go! Beta-glucan Drink Mix (Strawberry), 70 g
# 500512 70 g (14 x 5 g)
Powder for making a flavored drink with dietary fiber, with a sweetener.
High content of dietary fiber / source of glucose.
Drink with bioactive oat beta-glucans: a delicious source of dietary fiber. Consumption of beta-glucan helps to lower blood sugar level after a meal. Beta-glucans have also been shown to decrease blood cholesterol level. A beneficial effect is achieved with a daily intake of 3 g beta-glucans from oats, oat bran, barley, barley bran or their mixes.
What's inside?*
3.5 g of SweOat® bioactive oats
Milled strawberry
*Amount per serving.
Product of Russia.
Manufacturer: Laboratory of Modern Health LLC, 11/20 Khimzavodskaya St., Berdsk, Novosibirsk Region, 633004, Russia.
Recommended use
Dissolve the sachet content in 100-150 ml of water. Take 1 serving in the morning.
NOTE:
It's important to maintain diverse and balanced food diet and healthy lifestyle.
Store in a dry place, away from light, at a temperature of no more than 20 °С and relative humidity of no more than 75%. Keep out of the reach of children.
Heat-treated oat bran (71%), isomalto-oligosaccharide, strawberry powder (11.5%), malic acid (acidity regulator), guar gum (thickener), strawberry flavor, steviol glycosides (sweetener).
| | | |
| --- | --- | --- |
| Name | In 100 g (dry powder) | In serving (5 g) (dry powder) |
| Energy value | 1092 kJ / 264 kcal | 55 kJ / 13 kcal |
| Fats | 4 g | 0,2 g |
| where saturated fatty acids | 12 g | < 0,1 g |
| Carbohydrates | 14 g | 0,7 g |
| where sugar | 3,6 g | 0,2 g |
| Dietary fiber | 50 g | 2,5 g |
| Protein | 18 g | 0,9 g |
| Salt | 0 g | 0 g |
| Beta-glucan | 20 g | 1 g |