Home
→ Food Supplement Chronolong, 30 capsules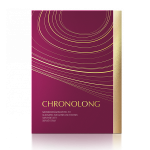 Price inkluding VAT plus shipping
Buy in Online-Shop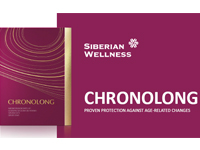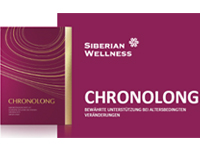 Food Supplement Chronolong, 30 capsules
# 500449 15 g (30 capsules × 0.5 g)
Food supplement with sodium hyaluronate, isoflavones, vitamins and taurine.
The product contains soybean extract rich in natural phytoestrogens such as genistein. The product composition contains hyaluronic acid, which is an important component of the skin. Vitamin D takes part in cell division, contributes to the maintenance of normal muscle function, normal blood calcium levels and normal teeth. Folacin promotes normal homocysteine metabolism.
Support for women's beauty and youth!
Vitamin D contributes to the normal absorption of calcium and phosphorus
Vitamin D ensures normal blood calcium level.
Vitamin D helps maintain normal bones, teeth and normal muscle function.
Product of Russia.
Manufacturer: Laboratory of Modern Health LLC, 11/20 Khimzavodskaya St., Berdsk, Novosibirsk Region, 633004, Russia.
Recommended use
Adults take 1 capsule once a day with a meal and some liquid. Do not exceed the recommended daily intake.Do not exceed the recommended daily intake. The maximum duration of intake should not exceed 10 months.
NOTE:
as a supplement to the daily vitamin need. Gluten- and lactose-free. Food supplements are not a substitute for a well-balanced and diversified diet or a healthy lifestyle. Keep out of reach of children. Not intended for pregnant and lactating women. Consult your healthcare professional about individual intolerance prior to use. Store in cool and dry place at a temperature of no more than 25 °С.
INGREDIENTS: isoflavone-rich soybean extract, taurine, hydroxypropylmethylcellulose, sodium hyaluronate, cholecalciferol, folic acid.
Name
Daily intake (1 capsule):
% NRV*
Sodium hyaluronate
88 mg
-
Vitamin D3
11.25 mcg
225
Folic acid
500 μg
250
Taurine

130 mg
-
Soybean extract
Genistein-based isoflavones
175.5 mg
70 mg
-
-
* NRV – nutritional value.