Home
→ Food supplement Siberian Super Natural Sport. BCAA Complex, 120 tablets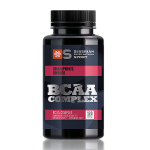 Price inkluding VAT plus shipping
Buy in Online-Shop
Food supplement Siberian Super Natural Sport. BCAA Complex, 120 tablets
# 500277 123.6 g (120 tablets × 1030 mg)
Food supplement with amino acids.
Developed for the intense workouts the nutritional blend contains three essential amino acids that our body cannot produce by itself. With a daily dosage of leucine, isoleucine, and valine at a 2:1:1 ratio you get 5 g of amino acids.
Product of Russia.
Manufacturer: Laboratory of Modern Health LLC, 11/20 Khimzavodskaya St., Berdsk, Novosibirsk Region, 633004, Russia.
Recommended use
Take 6 tablets once a day before workout during the entire course of intense physical exercises.
NOTE:
Gluten-free. Food supplements are not a substitute for a well-balanced and diversified diet or a healthy lifestyle. Keep out of reach of children. Consult your health-care professional about individual intolerance prior to use. Do not exceed the recommended daily intake.
Store in a dry, cool place at the room temperature of no more than 25 ºС.
L-leucine, L-isoleucine, L-valine, cellulose microcrystalline, emulsifier: lecithin (soy), polyvinyl alcohol (coating), magnesium salts of fatty acids (release agent), polyethylene glycol (coating), talc (release agent).
| | |
| --- | --- |
| Name | Daily intake (6 tablets): |
| L-leucine | 2400 mg |
| L-isoleucine | 1200 mg |
| L-valine | 1200 mg |