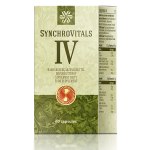 Price inkluding VAT plus shipping
Buy in Online-Shop
Food Supplement "Synchrovitals IV", 60 capsules
# 500130 37.5 g (60 capsules)
Food supplement with taurine and botanical extracts.
Complex No.1 contains milk thistle – the source of silimarin, a substance which promotes body detoxification. Complex No.2 unites Siberian herbs and plants extracts, including the extract of famous Siberian adaptogen – St. John's wort, which help normalize metabolic processes.
Product of Russia.
Manufacturer: Laboratory of Modern Health LLC, 11/20 Khimzavodskaya St., Berdsk, Novosibirsk Region, 633004, Russia.
Recommended use
Adults take 1 capsule of Complex 1 in the morning and 1 capsule of Complex 2 in the evening with meals and a small amount of liquid. Do not exceed the specified recommended daily intake.
NOTE:
Gluten-free. Food supplements do not substitute a well-balanced and diversified diet or a healthy lifestyle. Keep out of reach of children. Consult your health-care professional about individual intolerance prior to use.
Store in a dry place, at a room temperature of no more than 25°С.
Complex No. 1
16.5 g (30 capsules × 0.55 g)
Taurine, milk thistle berries extract (Silybum marianum (L.) Gaertner), hydroxypropyl methylcellulose, cinquefoil extract (Potentilla erecta). Transparent cellulose-containing capsule.
| | |
| --- | --- |
| Name | Daily intake (1 capsule) |
| Taurine | 233 mg |
| Milk thistle berries extract | 119 mg |
| including silymarin based on silybin | 83,3 mg |
| Cinquefoil extract | 94 mg |
| including tannins based on tannin | 18,8 mg |
Complex No. 2
21 g (30 capsules x 0.7 g)
Taurine, hydroxypropyl methylcellulose, St. John's Wort herb extract (Hypericumperforatum L.), Baikal skullcap root extract (Scutellaria baicalensis Georgi).
| | |
| --- | --- |
| Name | Daily intake (1 capsule) |
| Taurine | 481 mg |
| St. John's Wort herb extract | 56 mg |
| including hypericin | 0,17 mg |
| Baikal skullcap extract | 56 mg |
| including baikalin | 5,6 mg |