Home
→ Food Supplement "Synchrovitals II", 60 capsules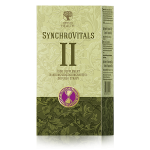 Price inkluding VAT plus shipping
Buy in Online-Shop
Food Supplement "Synchrovitals II", 60 capsules
# 500071 60 capsules / 33 g
Precious herbal extracts help to support your active phase in the morning and make you relaxed in the evening. The product contains essential vitamin C which helps to normalize nervous system functioning.
Food supplements are not a substitute for a balanced and varied diet or a healthy lifestyle. Keep out of reach of children. In case of any individual intolerance please consult your health care professional prior to intake.
Product of Russia.
Manufacturer: Laboratory of Modern Health LLC, 11/20 Khimzavodskaya St., Berdsk, Novosibirsk Region, 633004, Russia.
Recommended use
Store in a dry place, at a room temperature of no more than 25°С.
Complex № 1: phosphatidyl serine (soy), hydroxypropyl methylcellulose, ginkgo biloba extract, gotu cola extract, ginseng extract, ascorbyl palmitate.
Complex № 2: sage extract, St. John's wort herb extract, ascorbyl palmitate, Baikal skullcap extract, hydroxypropyl methylcellulose, dyes: titanium dioxide (E171), copper complexes of chlorophyll and chlorophyllin (E141).