Home
→ Food Supplement "Synchrovitals VII", 60 capsules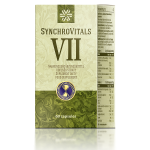 Price inkluding VAT plus shipping
Buy in Online-Shop
Food Supplement "Synchrovitals VII", 60 capsules
# 500050 30.9 g (60 capsules)
Food supplement with vitamin C, beta-carotene, zeaxanthin and botanical extracts.
This product is intended for those who spend much time on the computer or other devices. It contains a wide range of botanical pigments and light filters: lutein, zeaxanthin and beta-carotene. The complex is additionally enriched with natural anthocyanins and vitamin A, which helps to support vision.
Vitamin A maintains good vision. Vitamin D supports immune function.
Product of Russia.
Manufacturer: Laboratory of Modern Health LLC, 11/20 Khimzavodskaya St., Berdsk, Novosibirsk Region, 633004, Russia.
Recommended use
Adults take 1 capsule of Complex 1 in the morning and 1 capsule of Complex 2 in the evening with meals and a small amount of liquid. Do not exceed the specified recommended daily intake.
NOTE:
As a supplement to the daily vitamin need. Food supplements do not substitute a well-balanced and diversified diet or a healthy lifestyle. Keep out of reach of children. Consult your health-care professional about individual intolerance prior to use.
Store in a dry place, at a room temperature of no more than 25°С.
Complex No. 1
13.8 g (30 capsules x 0.46 g)
Anthocyanins-enriched hibiscus flower extract (Hibiscus sabdariffa L.), anthocyanins-enriched bilberry extract (Vaccinum myrtillus L.), hydroxypropyl methylcellulose, anthocyanins-enriched aronia fruit extract (Aronia melanocarpa L.), maltodextrin.
| | |
| --- | --- |
| Name | Daily intake (1 capsule) |
| Anthocyanins | 40 mg |
Complex No. 2
17.1 g (30 capsules x 0.57 g)
Acerola extract (Malpighia glabra), maltodextrin, rose hips extract (Rosa majalis Herrm.), lutein-enriched marigold extract (Tagetes erecta), hydroxypropyl methylcellulose, beta-carotene, ascorbyl palmitate, modified starch, synthetic zeaxanthin, corn starch, sucrose, sodium ascorbate.
Name
Daily intake (1 capsule)
Vitamin C
62 mg
77,5
Lutein
5 mg
–
Beta-carotene
5 mg
–
corresponds to vitamin A
834 μg RE
104
Zeaxanthin
1 мг
–