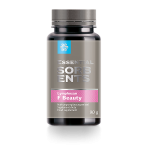 Price inkluding VAT plus shipping
Buy in Online-Shop
Food Supplement "Lymphosan F Beauty", 90 g
# 500044 90 g
Food supplement with pectin and botanical extracts.
A complex for women whichcontains phytosorbent pectinthat is a source of dietarycellulose. Product ingredientsinclude famous botanicalextracts: watercress, aloe vera,mint leaves, meadow cloverflowers from Altay foothills.Grape seeds extract is widelyused in cosmetics, whilesoy beans contain essentialingredients for women body –phytoestrogens.
Product of Russia.
Manufacturer: Laboratory of Modern Health LLC, 11/20 Khimzavodskaya St., Berdsk, Novosibirsk Region, 633004, Russia.
Recommended use
Dissolve 7.5 g of powder (1 scoop) in 200 ml of warm water (50–60 °С) and mix thoroughly using a mixer. Take twice a day. Do not exceed the specified recommended daily intake.
NOTE:
food supplements do not substitute a well-balanced and diversified diet or a healthy lifestyle. Keep out of reach of children. Consult your health-care professional about individual intolerance prior to use. Not intended for pregnant and lactating women and for children under 12 years of age.
Store in a dry place, at a room temperature of no more than 25°С.
Pectin, guar gum, Jerusalem artichoke powder (Helianthus tuberosus), maltodextrin, watercress extract (Nasturtium officinale), peppermint leaves extract (Mentha piperita L.), grape seed extract (Vitis vinifera), clover flowers extract (Trifolium Pratense), soy extract (Glycine Max.), aloe vera extract-gel (aloe vera).
| | |
| --- | --- |
| Name | In a serving (7.5 g): |
| Pectin | 2,9 g |
| Guar gum | 1,5 g |
| Peppermint extract | 2,1 g |
| Jerusalem artichoke powder | 0,75 g |
| including inulin | 225 mg |
| Peppermint leaf extract | 0,33 g |
| Grape seed extract | 0,25 g |
| including polyphenols | 75 mg |
| Clover flower extract | 0,18 g |
| including isoflavones | 18 mg |
| Soy extract | 0,16 g |
| including isoflavones | 32 mg |
| Aloe vera extract-gel | 8 mg |
| including aloin | 1 mg |
| Fiber | 3,9 g |