Home
→ Food Supplement "Lymphosan C Balance", 90 g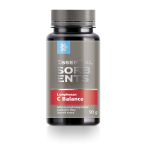 Price inkluding VAT plus shipping
Buy in Online-Shop
Food Supplement "Lymphosan C Balance", 90 g
# 500043 90 g
Food supplement with pectin and plant extracts.
The product contains severaltypes of soluble dietary fibersin a form of phytosorbents. Itcontains famous extracts ofgreen tea and hawthorn.
Product of Russia.
Manufacturer: Laboratory of Modern Health LLC, 11/20 Khimzavodskaya St., Berdsk, Novosibirsk Region, 633004, Russia.
Recommended use
Dissolve 7.5 g of powder (1 scoop) in 200 ml of warm water (50–60 °С) and mix thoroughly using a mixer. Take once a day. Do not exceed the specified recommended daily intake.
NOTE:
Food supplements do not substitute a well-balanced and diversified diet or a healthy lifestyle. Keep out of reach of children. Consult your health-care professional about individual intolerance prior to use.
Store in a dry place, at a room temperature of no more than 25°С.
Citrus fibers, Jerusalem artichoke powder (Helianthus tuberosus), plantain seed powder (Plantago psyllium), guar gum, xanthan, green tea extract (Сamellia sinensis), hawthorn berries extract (Сrataegus laevigata).
| | |
| --- | --- |
| Name | In a serving (7.5 g): |
| Citrus fiber | 2,25 g |
| Jerusalem artichoke powder | 1,5 g |
| including inulin | 450 mg |
| Plantain seed powder | 1,35 g |
| Guar gum | 0,75 g |
| Xanthan | 0,75 g |
| Green tea extract | 0,75 g |
| including catechins | 225 mg |
| Haw berries extract | 0,15 g |
| including flavonoids (based on rutin) | 0,15 mg |
| Soluble fiber | 2,6 g |