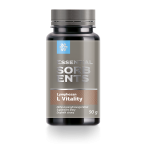 Price inkluding VAT plus shipping
Buy in Online-Shop
Food Supplement "Lymphosan L Vitality", 90 g
# 500042 90 g
Food supplement with dietary fiber and botanical extracts.
Botanical product with pectin contains a large amount of dietaryfibers – important elements for digestive system normal functioning.Pectin is one of the dietary fibers which help to maintain a normal levelof cholesterol in blood. The product contains well-known milk thistleextract, precious extracts of mint, chamomile, thyme, St. John's wortherb and aloe vera.
Product of Russia.
Manufacturer: Laboratory of Modern Health LLC, 11/20 Khimzavodskaya St., Berdsk, Novosibirsk Region, 633004, Russia.
Recommended use
Dissolve 7.5 g of powder (1 scoop) in 200 ml of warm water (50–60 °С) and mix thoroughly using a mixer. Take twice a day. Do not exceed the specified recommended daily intake.
NOTE:
Food supplements do not substitute a well-balanced and diversified diet or a healthy lifestyle. Keep out of reach of children. Consult your health-care professional about individual intolerance prior to use.
Store in a dry place, at a room temperature of no more than 25°С.
Pectin, guar gum, peppermint extract (Mentha piperita L.), Jerusalem artichoke powder (Helianthus tuberosus), chamomile extract (Chamomilla recutita L.), maltodextrin, thyme extract (Thymus vulgaris), milk thistle berries (Silybum marianum L.), St. John's wort extract (Hypericum perforatum L. Gaertn.), aloe vera extract-gel (Aloe vera).
| | |
| --- | --- |
| Name | In a serving (15 g): |
| Pectin | 6,2 g |
| Citrus fibers | 3,0 g |
| Peppermint extract | 2,1 g |
| Jerusalem artichoke powder | 1,5 g |
| including inulin | 450 mg |
| Chamomile extract | 1,3 g |
| including apigenin | 39 mg |
| Thyme extract | 600 mg |
| including flavonoids (based on rutin) | 6 mg |
| Milk thistle berries | 200 mg |
| St. John's wort extract | 100 mg |
| including hypericin | 0,3 mg |
| Aloe extract-gel | 8 mg |
| including aloin | 1 mg |
| Fiber | 7,8 g |