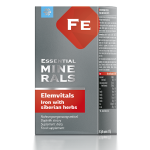 Price inkluding VAT plus shipping
Buy in Online-Shop
Food Supplement "Elemvitals. Iron with siberian herbs", 60 capsules
# 500039 34.2 g (60 capsules x 0.57 g)
A food supplement with iron, vitamins and botanical extracts.
The product contains organic compounds of iron, which contribute to the normal oxygen transfer through the body. Vitamin C enhances the absorption of iron, riboflavin, while vitamin B6 and niacin contribute to normal energy metabolism.
Product of Russia.
Manufacturer: Laboratory of Modern Health LLC, 11/20 Khimzavodskaya St., Berdsk, Novosibirsk Region, 633004, Russia.
Recommended use
Adults take 1 capsule a day with a meal and some liquid. Do not exceed the specified recommended daily intake.
NOTE:
For women before menopause. As a supplement to the daily vitamin need. Food supplements do not substitute a well-balanced and diversified diet or a healthy lifestyle. Keep out of reach of children. Consult your health-care professional about individual intolerance prior to use. Not suitable for pregnant and lactating women. Not suitable for people with impaired iron metabolism.
Store in a dry, cool place at a room temperature of no more than 25 °С.
Acerola (Malpighia glabra) extract, gelatin, Siberian ginseng (Eleutherocóccus senticósus) root extract, iron fumarate, nicotinamide, pyridoxine hydrochloride, riboflavin, thiamine hydrochloride, folic acid, cyanocobalamin.
Name

Daily intake (1 capsule):

NRV, %*
Acerola extract
300 mg


where vitamin C
51 mg
64
Siberian ginseng root extract
97,5 mg


where eleutherosides
0,975 mg


Iron
12 mg
86
Vitamin B1
1,8 mg
164

Vitamin

В2
2 mg
143

Vitamin

В6
2,5 mg
179

Vitamin

В12
1,6 mcg
64
Niacin
20,8 mg NE
130
Folic acid
315 mcg
158
* NRV – Nutrient Reference Value.