Home
→ Experalta Platinum. THE BODY LAB Cellulite Spot Topical Concentrate X50 Silhouette, 150 ml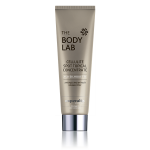 Price inkluding VAT plus shipping
Buy in Online-Shop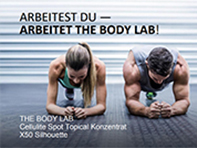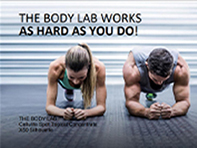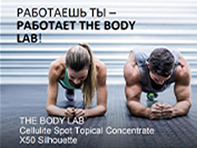 Experalta Platinum. THE BODY LAB Cellulite Spot Topical Concentrate X50 Silhouette, 150 ml
# 411382 150 ml
Innovation: BrownSlim anti-cellulite complex supports fat burning, enhancing the effect of exercises.
BrownSlim is based on the extracts of the Undaria pinnatifida seaweeds (or wakame) and Garcinia cambogia. Upon high concentration the complex of arnica, elderberry, chestnut and ruscus extracts delivers a pronounced lymphatic drainage effect: improves microcirculation in the skin, prevents congested areas and helps remove excess fluid from the body. Plus, it promotes tonifying and strengthening effects. The X50 molecule reduces lipid synthesis, which facilitates slimming and helps smooth out "orange peel" skin. Result: a more sculpted body silhouette, smooth and supple skin.
Beauty Laboratory LLC,Sadovaya-Triumphalnaya Str. 4/10, Moscow, Russia, 127006
Recommended use
Lightly massage into areas of concern. Best if used 2 times a day (not more than 8 g a day) for at least 20 days. To maintain the effect, continue applying 1 time a day. Strong warming effect.
Active ingredients: caffeine, vitamin PP, allantoin, essential oils of orange peel, mint, thuja, anise, bergamot, extracts of wakame, ivy, Garcinia cambogia, horse chestnut, flower extracts of arnica and elderberry, tocopherol (vitamin E).
Ingredients: Aqua, Glycerin, Urea, Dimethyl Isosorbide, Benzyl Alcohol, Caffeine, Carbomer, Niacinamide, Vanillyl Butyl Ether, Allantoin, Limonene, Citrus Aurantium Dulcis Peel Oil, Lecithin, Glyceryl Laurate, Aesculus Hippocastanum Seed Extract, Garcinia Cambogia Fruit Extract, Sodium Hydroxide, Glycine Soja Oil, Sodium Benzoate, Ruscus Aculeatus Root Extract, Potassium Sorbate, Citrus Reticulata Peel Oil, Lactic Acid/Glycolic Acid Copolymer, Sambucus Nigra Flower Extract, Arnica montana flower extract, Thuja Occidentalis Leaf Oil, Hedera Helix Extract, Mentha Piperita Oil, Polyvinyl Alcohol, Coccoloba Uvifera Fruit Extract, Pimpinella Anisum Fruit Oil, Citrus Bergamia Leaf Oil, Tocopherol, Undaria Pinnatifida Extract, Xanthan Gum, Dextran, Beta-Sitosterol, Acetyl Cyclohexapeptide-34, Squalene, Tetrasodium Glutamate Diacetate, Linalool.