Home
→ Experalta Platinum. Pore Cleansing Facial Exfoliator, 100 ml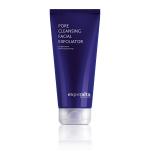 Price inkluding VAT plus shipping
Buy in Online-Shop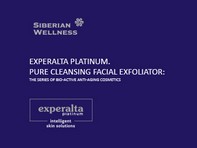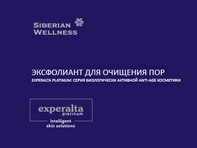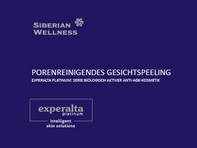 Experalta Platinum. Pore Cleansing Facial Exfoliator, 100 ml
# 408371 100 ml
This luxurious exfoliant provides a multi-step gentle cleansing and reviving care for all skin types, including sensitive and irritable skin. It carefully dissolves excess sebum, removes dead cells, opening its pores. Result: pores are open to breathe, making the skin smooth.
Beauty Laboratory LLC,Sadovaya-Triumphalnaya Str. 4/10, Moscow, Russia, 127006
Recommended use
Apply a small amount on the face, avoiding the eye area. Massage for 2-3 minutes, rinse with plenty of warm water. Use 1-2 times a week as a product for deep cleansing.
Active ingredients: ine stone powder, amber, Baikal skullcap, chamomile flower extract, oils of almond and olive, green tea, rosemary.
Ingredients (INCI): aqua (water), sodium lauroyl methyl isethionate, sorbitol, sodium cocoamphoacetate, cellulose, lauryl hydroxysultaine, urea, inulin, carbomer, benzyl alcohol, L-arginine, sweet almond oil glycereth-8 esters, olive oil glycereth-8 esters, pinus sibirica (siberian pine) stone powder, panthenol, amber powder, L-lactic acid, glyceryl laurate, parfum, centella asiatica extract, scutellaria baicalensis (baikal skullcap) root extract, polygonum cuspidatum (japanese knotweed) root extract, glycyrrhiza glabra (licorice) root extract, chamomilla recutita (matricaria) flower extract, scutellaria baicalensis (baikal skullcap) root extract, butylene glycol, camellia sinensis (green tea) leaf extract, rosmarinus officinalis (rosemary) leaf extract, ganoderma lucidum (lingzhi mushroom) extract, citric acid.