Home
→ Experalta Platinum. Luxurious Face Renewal Micellar Water, 200 ml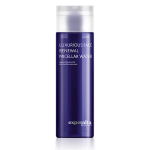 Price inkluding VAT plus shipping
Buy in Online-Shop
Experalta Platinum. Luxurious Face Renewal Micellar Water, 200 ml
# 408369 200 ml
The innovative micellar formula of this makeup remover provides an extra mild highly effective cleansing and suits even the most sensitive skin. Rich in botanical extracts with antioxidant and anti-aging properties, it also nourishes and rejuvenates the skin.
Beauty Laboratory LLC,Sadovaya-Triumphalnaya Str. 4/10, Moscow, Russia, 127006
Recommended use
Dampen a cotton pad with a small amount of micellar water and gently wipe the face. To remove makeup from the eye area, hold a cotton pad against the closed eye for 2-3 seconds and then gently wipe off the rest of makeup. No need to rinse with water.
Active ingredients: extracts of amaranth, goat's rue, lingzhi mushroom, rosemary, pumpkin seeds.
Ingredients (INCI): Aqua, Propanediol, Ethoxydiglycol, Pentylene Glycol, Caprylyl/Capryl Glucoside, Sodium Benzoate, Maris Aqua, Hydrogenated Lecithin, Amaranthus Cruentus Seed Extract, Parfum, Sodium Phytate, Galega Officinalis Extract, Ganoderma Lucidum Extract, Sodium Hydroxide, Helianthus Annuus Seed Oil, Rosmarinus Officinalis Leaf Extract, Cucurbita Pepo Seed Extract, Benzyl Alcohol, Potassium Sorbate, Citric Acid.