Home
→ Food Supplement "Trimegavitals. Omega-3 concentrate and lycopene", 30 capsules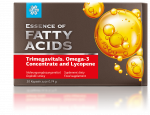 Price inkluding VAT plus shipping
Buy in Online-Shop
Food Supplement "Trimegavitals. Omega-3 concentrate and lycopene", 30 capsules
# 5FP183 22.2 g (30 capsules × 0.74 g)
Food supplement with polyunsaturated omega-3 acids and lycopene.
The product with EPA (eicosapentaenoic acid) and DHA (docosahexaenoic acid) contributes to normal heart function. The beneficial effect is achieved with daily intake of 250 mg of EPA and DHA. The replacement of saturated fatty acids with polyunsaturated and/or monounsaturated ones in the diet helps maintain the normal level of cholesterol in blood. The product is enriched with natural lycopene.
Product of Russia.
Manufacturer: Laboratory of Modern Health LLC, 11/20 Khimzavodskaya St., Berdsk, Novosibirsk Region, 633004, Russia.
Recommended use
Adults should take one capsule a day with a meal and some liquid. Do not exceed the recommended daily intake.
NOTE:
0% of lactose, gluten. Food supplements are not a substitute for a well-balanced and diversified diet or a healthy lifestyle. Keep out of reach of children. In case of any individual intolerance please consult your health care professional prior to intake.
Store in a cool, dry place, at a room temperature of no more than 25°С.
Ethyl esters of fatty acids produced from fish fat, gelatin, lycopene.
| | |
| --- | --- |
| Name | Daily intake (1 capsule): |
| Ethyl ester of fatty acid | 450 mg |
| where omega-3 fatty acids | 270 mg |
| where docosahexaenoic acid | 99 mg |
| where eicosapentaenoic acid | 148,5 mg |
| Lycopene | 5 mg |