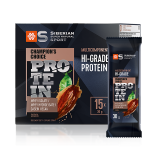 Price inkluding VAT plus shipping
Buy in Online-Shop
Siberian Super Natural Sport. Multicomponent hi-grade protein, 450 g
# 500466 450 g (15 servings х 30 g)
Powder for making a protein drink with amino acids, cocoa and sweetener.
Multicomponent Hi-Grade Protein consists of high-quality proteins with different digestion time: protein hydrolysate and amino acids (BCAA), whey protein and casein. The product is packed with some of the most popular ingredients among sports fans that increase energy levels thanks to which it will ideally suit not only professional athletes but also beginners. Protein ensures muscle gains and healthy bones. 0% artificial flavors and thickeners, 0% fillers, 0% ovegetable protein.
Product of Russia.
Manufacturer: Laboratory of Modern Health LLC, 11/20 Khimzavodskaya St., Berdsk, Novosibirsk Region, 633004, Russia.
Recommended use
Thoroughly mix 300 ml of skim milk (or 150 ml of 1.5% milk + 150 ml of water) and package content in a shaker bottle. Serve in 2-3 minutes after mixing. Use as a post-workout supplement to the main meal.
NOTE:
It's important to maintain a diverse and balanced food diet and healthy lifestyle.
Store in a dry place, away from light, at a temperature of no more than 20º С and relative humidity of no more than 70%.
Milk protein concentrate (80.3%), cocoa powder (7.5%), whey protein hydrolysate (4%), whey protein isolate (4%), L-leucine (2%), L-isoleucine (1%), L-valine (1%), sweetener: steviol glycosides, emulsifier (soy lecithin).
Name
100 g (dry powder)
In a serving (30 g) (dry powder)
Energy Value
1423 kJ / 340 kcal
427 kJ / 102 kcal
Fats
2,0 g
0,6 g
where saturated fatty acids
1,5 g
0,5 g
Carbohydrates
5,3 g
1,6 g
where sugar
5,3 g
1,6 g
Protein
77 g
23 g
Salt
0,25 g
0,08 g
ESSENTIAL AMINO ACIDS
Isoleucine
5250 mg
1575 mg
Leucine
10233 mg
3070 mg
Lysine
6867 mg
2060 mg
Methionine
2400 mg
720 mg
Phenylalanine
4167 mg
1250 mg
Threonine
3733 mg
1120 mg
Tryptophan
1100 mg
330 mg
Valine
6433 mg
1930 mg