Home
→ Siberian Super Natural Sport. Double-phase hi-grade protein (strawberry), 375 g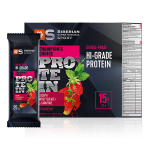 Price inkluding VAT plus shipping
Buy in Online-Shop
Siberian Super Natural Sport. Double-phase hi-grade protein (strawberry), 375 g
# 500447 375 g (15 servings х 25 g)
Powder for making a protein drink with strawberry flavor, contains sweetener.
Multi-component protein drink with strawberry juice is a well-balanced combination of quickly digested (whey protein isolate) and slowly digested (casein) proteins. The cocktail contains the branched-chain amino acids (BCAA). Protein ensures muscle gain and healthy bones.
This product is convenient to take with you: take a small pack to your training or walking to complement your daily diet!
Product of Russia.
Manufacturer: Laboratory of Modern Health LLC, 11/20 Khimzavodskaya St., Berdsk, Novosibirsk Region, 633004, Russia.
Recommended use
Mix 300 ml of skim milk (or 150 ml of 1.5% milk + 150 ml of water) and 1 package content (25 g) in a shaker bottle. Serve in 2-3 minutes after mixing. Use before or after a workout as a supplement to your diet..
NOTE:
it's important to maintain diverse and balanced food diet and healthy lifestyle.
Store in a dry place away from light at a temperature of no more than 20º С and relative humidity of no more than 70%.
Milk protein concentrate (89%), whey protein isolate (4%), natural flavor (3%), L-carnitine (2%), strawberry powder (0.3%), сіtric acid, natural strawberry flavor, sweetener: steviol glycosides, cyanocobalamin.
Name
100 g (dry powder)
In a serving (25 g) (dry powder)
Energy Value
1456 kJ / 348 kcal
364kJ / 87 kcal
Fats
1.2 g
<0.5 g
where saturated fatty acids
0.8 g
0.2 g
Carbohydrates
4 g
1 g
where sugar
4 mg
1 mg
Protein
80 g
20 g
Salt
0.25 g
0.06 g
Vitamin B12
10 µg (400% NRV*)
2.5 µg (100% NRV*)
L-Carnitine
2000 mg
500 mg
AMINO ACIDS
Alanine
2404 mg
601 mg
Arginine
2600 mg
650 mg
Aspartic acid + asparagine
5392 mg
1348 mg
Cysteine
464 mg
116 mg
Glutamic acid + glutamine
16308 mg
4077 mg
Glycine
1388 mg
347 mg
Histidine
2128 mg
532 mg
Isoleucine
3852 mg
963 mg
Leucine
7372 mg
1843 mg
Lysine
6212 mg
1553 mg
Methionine
2136 mg
534 mg
Phenylalanine
3748 mg
937 mg
Proline
7884 mg
1971 mg
Serine
4176 mg
1044 mg
Threonine
3292 mg
823 mg
Tryptophan
976 mg
244 mg
Thyrosine
4016 mg
1004 mg
Valine
4888 mg
1222 mg