Home
→ Food Supplement "Trimegavitals. DHA Superconcentrate", 30 capsules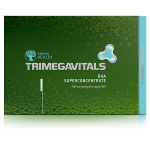 Price inkluding VAT plus shipping
Buy in Online-Shop
Food Supplement "Trimegavitals. DHA Superconcentrate", 30 capsules
# 500061 30 capsules / 22,2 g
A Source of Docosahexaenoic Acid (DHA).
The product has been created to support the normal functioning of the brain and the vision system. It is a source of docosahexaenoic acid (DHA) that belongs to the class of omega-3 polyunsaturated fatty acids. The DHA has been extracted directly from a natural source – deep water kelp.
Food supplements are not a substitute for a balanced and varied diet or a healthy lifestyle. Keep out of reach of children. In case of any individual intolerance please consult your health care professional prior to intake.
Product of Russia.
Manufacturer: Laboratory of Modern Health LLC, 11/20 Khimzavodskaya St., Berdsk, Novosibirsk Region, 633004, Russia.
Recommended use
Store in a cool, dry place, at a room temperature of no more than 25°С.