Home
→
Skin care
→
Body care
→ Siberian Pure Herbs Collection. Uyan Nomo. Joint Comfort Natural Relief Cream, 100 ml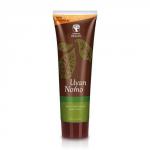 Price inkluding VAT plus shipping
Buy in Online-Shop
Siberian Pure Herbs Collection. Uyan Nomo. Joint Comfort Natural Relief Cream, 100 ml
# 402579 100 ml
It is a rich blend of essential oils, botanical extracts and natural revitalizing ingredients. Organic sulfur and chondroitin activate skin metabolism, while botanical extracts and oils soothe and bring the feeling of comfort.
Laboratory of Modern Health LLC, 11/20 Khimzavodskaya St., Berdsk,Novosibirsk Region, Russia, 633004.
Recommended use
Apply a small amount of the cream onto the affected areas and gently massage. Better if used daily for at least 2 weeks.
Active ingredients: galipot, chondroitin, organic sulfur, comfrey and marsh cinquefoil extracts, papain, complex of essential oils (eucalyptus, silver fir, rosemary, frankincense, clove).
Ingredients (INCI): aqua (water), ethoxydiglycol, caprylic/capric triglyceride, abies sibirica (siberian fir) turpentine, carbomer, glyceryl caprylate, menthol, camphor, papain, sodium chondroitin sulfate, eucalyptus globulus (eucalyptus) leaf oil, dimethyl sulfone, abies sibirica (siberian fir) oil, rosmarinus officinalis (rosemary) leaf oil, boswellia serrata oil, symphytum officinale (comfrey) root extract, comarum palustre (purple marshlocks) root extract, caprylhydroxamic acid, glycerin, sodium hydroxide, eugenia caryophyllus (clove) leaf oil.